Nakanojo Town, located in the mountainous region of northwestern Gunma prefecture, is a land where sericulture, agriculture, forestry, and tourism centered around hot springs have long flourished. The mountain village culture of this land where people and nature coexist has been handed down through generations.
In recent years, the environment has been disrupted by a whirlwind of global events, such as abnormal weather, new viruses, wars, and economic stagnation, which have cast a large shadow over this region. Traveling freely across the sea has become difficult, which felt familiar just a few years ago. It feels like the world map is turning into a fractured, blank space.
Cosmographia, the theme of Nakanojo Biennale 2023, is the title of an encyclopedic geographical book published in the 16th century by the German cartographer Sebastian Münster, covering the peoples, manners, customs, history, and religions of the world. Before the invention of airplanes, most world maps were drawn from imagination, and he envisioned the unseen world and created beautiful prints.
Today, in the 21st century, we can know what is happening around the world daily, but on the other hand, there are many things that we cannot see because the overflow of information covers them. When an artist ventures into a strange land to create work, it is an act of "tracing the invisible land" by seeing with their own eyes, feeling and imagining, and then giving form to this imagination and conveying it.
How does the world that emerges through the works of art they create emit light and take shape? We hope that the new Cosmographia, depicted as contemporary geography through contact with the culture and climate of the region, will be seen as a signpost in an opaque world.
August 2022
General Director Tetsuo Yamashige
The Nakanojo Biennale is an international contemporary art festival held every two years in Nakanojo Town, Gunma Prefecture. Surrounded by magnificent mountain scenery, Ramsar wetlands, hot spring villages with deep histories, sericulture, festivals, and traditional folk events, Nakanojo Town offers visitors the unique opportunity to experience beautiful satoyama culture that cannot be found anywhere else. Artists stay and work in this unique mountain village community and present their creations during the Nakanojo Biennale.
Artists live and create on this land and make their own platforms, many new human connections will be born. A big art event with creations by artists and local residents, "The 9th Nakanojo Biennale" will begin soon.
Artists of the Nakanojo Biennale 2023
125 Artists / As of August 1, 2023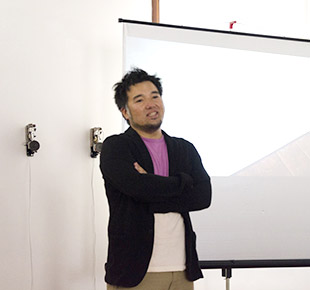 NAKANOJO BIENNALE
Director Tetsuo Yamashige
I would like to say thank you from the bottom of my heart to everyone who helped make the Nakanojo Biennale 2023 happen.
The 9th Nakanojo Biennale marks the 18th anniversary of my time in Nakanojo and a turning point in my life. It might be a short time when compared to cultural activities by local predecessors, but it has been a very important chapter of my life. I moved here with friends who shared similar ambitions and settled in a traditional house to learn mountain village culture. I got married and have been blessed with two children; this land certainly became our second home. Other artists who moved to Nakanojo because of the Biennale are living their life with this land. If I count the number of artists and local people who I have worked with it would easily be in the thousands, I've learnt a lot from exchanging opinions about the arts and the area with many people.
The environments that surround art; such as a museum, gallery or residency are changing everyday. Each one has its own role but I believe it's very important for artists themselves to make relationships with locals and visitors, just like the Nakanojo Biennale does. To exhibit at places which aren't made for art has potential problems, and each artist has to solve these problems by themselves as they carry on with their work. Artists create their works with a different point of view in the process of building a relationship with the location and locals. This brings new discoveries and offers change for both the audience and the artist, therefore a work would be specific to it's location and will give you a different impression on every viewing.
As time passes, the role Nakanojo Biennale plays has changed. At the very beginning we made an exhibition with friends and word spread like ripples in water, I hoped the exhibition would be made by a big circle of artists themselves, not with curators or gallerists. Because I knew so many artists from my generation, who exhibit mainly at publicly sponsored exhibitions and felt suffocated by the traditional art world, we started various projects such as: group exhibitions, curators exhibitions, architecture exhibition and educational projects with universities; We made a foundation for different fields of artists to interact. Nakanojo Biennale also became the reason for many artists who met here to hold their own exhibitions all over the country. Now more and more artists stay, not only at the residency but also at venue owners houses, or have moved into empty houses. The whole town seems to have become more and more receptive to the art festival with each iteration.
Several years ago I started to have ambitions for more links to residence programmes and exhibitions overseas and to invite more international artists. In order to prepare a basis for international exchanges I participated in Pavilion Zero which took a place at the 2013 Venezia Biennale; Mediation Biennale in Poznan, Poland in 2014 and, as a resident artist in Chiang Mai, Thailand. Now as this year expands the connection further more international exchanges will begin. At our new base in the former Isama primary school, we have plans to invite organisers who lead the art community internationally and to make an international exchange exhibition. I am going to give as much support as I can to help artists connect with organisers and to help them flourish internationally.
In 1995 Kohei Oguri filmed "Nemuru Otoko" at Isama studio and in 1998 Reiji Hiramatsu opened Azuma art school at the Arikasa mountain villa, then in 2006 I started Nakanojo Biennale with friends from a base at Isama studio. I certainly feel this sequence of art and cultural activities has taken its root in this town. Above all, it's significant that Nakanojo has been receptive to films and art for 20 years, as it were, the whole town has been a continuing artist in residence for this time. I feel proud that I witnessed new art and culture being born and developing in areas with declining population.
I would like to trust in this land and people and continue together.
Art and culture international exchange
Since 2007 Nakanojo Biennale has been encouraging cultural exchange between locals and artists, including international artists. Many artists have participated in traditional events or exchanged food cultures and I often hear they maintain a relationship as if they were family. Above all, I'm very happy the area has been so receptive and it seems like everyone is enjoying themselves.
Foreign artists have also moved to Nakanojo and it is giving more opportunities for people who live in mountain villages to interact with different cultures. It teaches us how we don't realise our unique local culture unless it's seen from an others perspective. Thus international art cultural exchanges play an important role in learning about our own culture.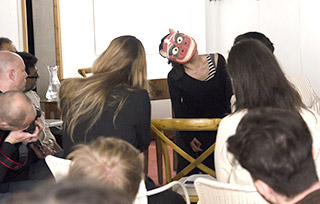 At Pavilion Zero, which took place at Venezia Biennale 2013, we were given an opportunity to screen a film which shows how Nakanojo approaches art; Also Masumi Saito (based in London) presented a performance inspired by the traditional dance form Shishi-Mai(Lion dance). From this experience I realised again how beautiful the culture from Nakanoyo is and I found it necessary to protect and share this culture with many others.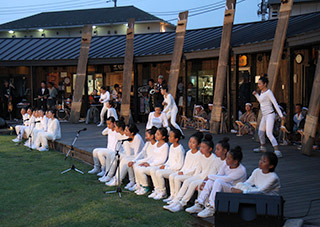 Each time at the opening ceremony of Nakanojo Biennale we make a platform for local people and artists to collaborate. Performers are mainly local children and the music is played by local people who support the traditional music culture Gakudan (orchestra).
They collaborate in completely different genres such as Jazz and Gagaku (ancient court music), contemporary dance and Kagura (sacred dance).Participants enjoy more than the audience and make theatre together.This is a very fascinating approach, we carry on our traditions and the collaboration between local people and internationally acclaimed artists allows us all to discover new art forms.
In 2014 we visited the little town of Acelum in northern Italy which, like Nakanojo, is listed as one of "The most beautiful villages". We inspected how they introduce art and culture through art or film festivals to the mountain village life, alongside beautiful nature.
It is not as convenient as city life but life amongst beautiful scenery has many similarities to the mountain village culture in Gunma.
Nowadays there is a trend that culture is originating in rural areas instead of cities, which are loosing their character, and many tourists are visiting to take advantage of this. I would like to shine a spotlight on local festivals and unknown customs which have roots in local people's lives, and to introduce more of the beautiful culture which has been passed on by many generations, not only the tourist spots like nature and hot springs.
I hope the local area will be full of pride and Nakanojo's original culture will be passed on to the next generation because of the art and culture international exchange program.
Open Days of the art festival:
Saturday, September 9 - Monday, October 9, 2023 (National Holiday)
*open every day for 31 days
9:30 - 17:00
Open everyday
Location
At Gunma Prefecture, Nakanojo town.
Five areas of Nakanojo Town: Nakanojo Isemachi, Isama, Shima Onsen, Sawatari Kuresaka, and Kuni. Venues include shopping streets, onsen towns, wooden school buildings, and old Japanese-style houses.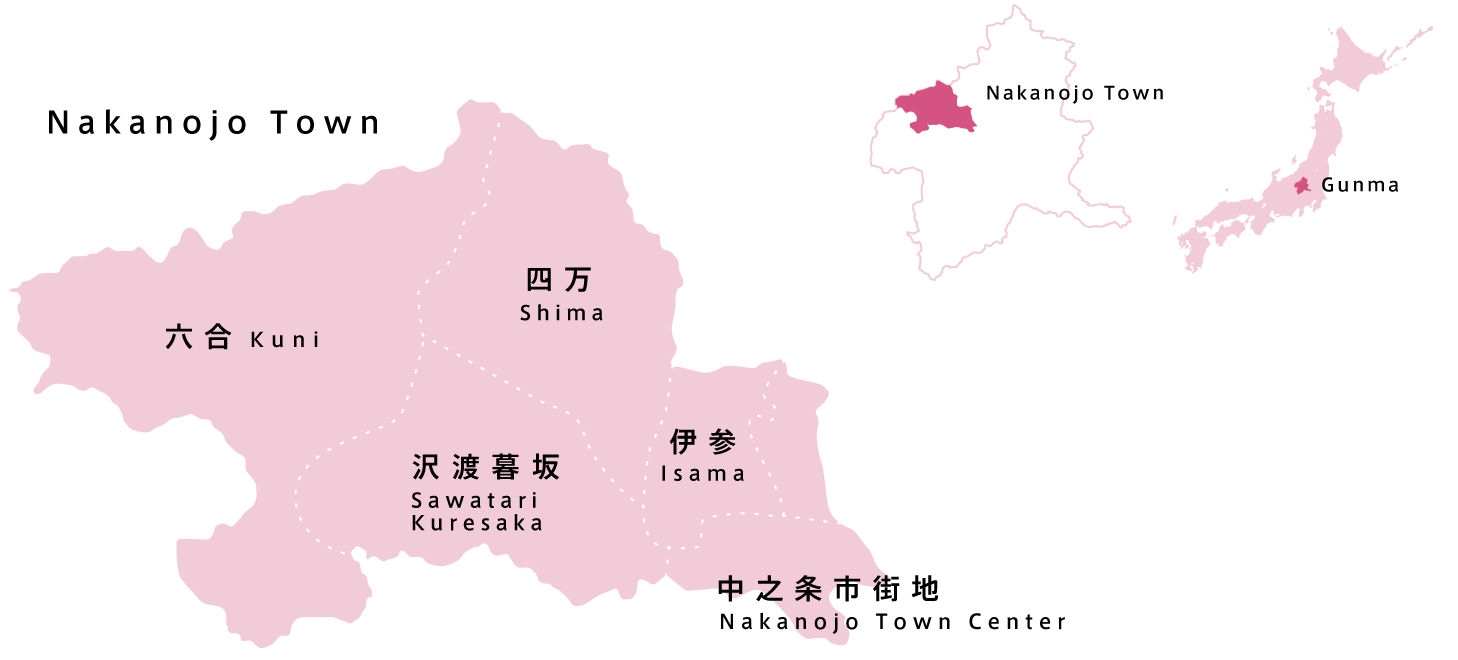 Tickets
• 1,500 yen on the day
Free for high school students and younger
What's on
Nakanojo Biennale started in 2007 and this art festival marks it's 9th year. Everywhere in town, including nearby onsen towns and abandoned wooden school buildings, will host exhibitions of drawings, sculptures, photographs and installations from more than 100 artists. There will be opening and closing events, theatre and performances as well as workshops and a market.
Access
Access to Nakanojo Station from Tokyo Station
Car: About 2.5 hours by highway
Train: About 3 hours by local train
Train: About 2 hours from *Ueno Station by express train
Bus: About 3 hours from Tokyo Station or **Shinjuku Bus Terminal (BASTA)
Access to Tokyo Station from the Airport
- Haneda airport to Tokyo Station - 30 minutes by train
- Narita airport to Tokyo Station - 1.5 hours by bus or train
Contact us
Office of Nakanojo Biennale
TEL: +81-279-75-3320 (Japanese only, during weekday from 9a.m. to 5p.m. UTC+9 )
MAIL: office@nakanojo-biennale.com
Address: 〒377-0432 (Postcoode)
Gunma-ken, Agatsuma-gun, Nakanojo-machi, Gotanda 3534-4 Japan