英語版の作家募集ページを公開いたしました。
ぜひ日本国外アーティストのみなさまへお伝えください!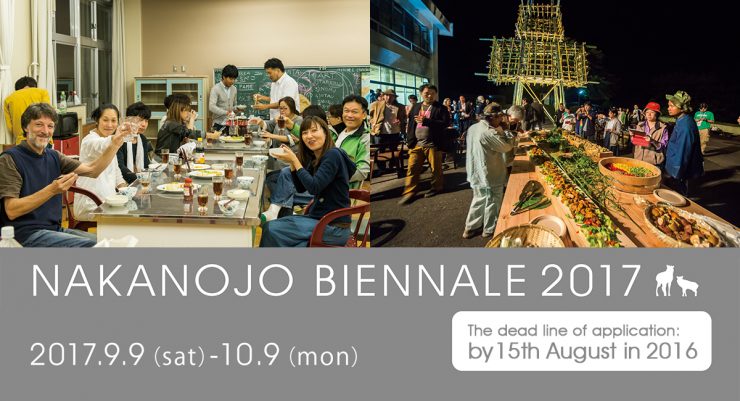 The English version of Nakanojo Biennale 2017 Artist Open Call demanded that is opened.
Submitting Application is sending a portfolio by post or online.
Nakanojo Biennale is opening the Artist Residency programme in several places in Nakanojo-machi from April, 2017. Since more than a decade ago Nakanojo Biennale was lead by artists. They stayed in mountain villages with rich nature or historical Onsen towns and worked with the locals to make the platforms. We are opening a call for the artists in residency for the 6th Nakanojo Biennale 2017.
Nakanojo-machi located in a rural part of Gunma prefecture, Japan.
It takes 2 hours from Tokyo by car, where the rural landscape is stretched and makes us forget the bustling city.
Nakanojo Biennale begun in 2007 and thanks to the support of many people, Nakanojo Biennale marks it's 6th anniversary next year. Previous participants are now flourishing both in Japan and internationally.
Especially the International Exchange Exhibition which was programmed in the festival last year and made significant opportunities for the artists. The artists lived under the same roof and deepened relationships despite the language barrier and it is spreading widely in various forms.
The art festival made by the artists and locals together.
Why don't you come and stay a memorable summer in the rural town which is full of humanity and Japanese cultures.
Opening bells are ringing for the start of festival on 9th September 2017.
Dates:
9th September[Sat]- 9th October[Mon, National Holiday]2017 *open everyday
Application Period:
1st June[Wed]2016 – 15th August [Mon]2016
by post (postmarked) or web (by 24:00).
Location:
5 areas of Nakanojo-machi(Nakanojo・Isemachi/Isama/Shima Onsen/Sawatari・Kuresaka/Kuni)Venues include Shopping Street, Onsen Town, Wooden School Buildings or Old Japanese-style Houses.
Previous Data
Participating Artists : 164 (including groups).
Locations : 56 places
Number of Visitors : 470,000 people (accumulating totals)
Note:
We aim to bring artists and local people together at Nakanojo Biennale.
Please have a spirit to respect each other.
▼ Please have a look the details here.
https://nakanojo-biennale.com/2017-artist-application-guidelines/english.html